View thread | Previous message | Next message

"Mary has too much of the Elliott pride." Written by Mary NM (10/20/2008 11:02 a.m.) in consequence of the missive, What is Mary's problem?, penned by Rachel G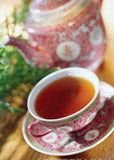 Louisa said it and it's true. After Anne turned down Charles Musgrove's proposal of marriage, Mary jumped at it when Charles proposed to her in order to be the first one of the Elliott sisters to marry. Thus, she rose in rank above her two elder sisters. Later, she regretted it when she realized that she had married beneath herself and was no longer treated as well as she had been when she was thought of as a baronet's daughter. Her pride suffered at no longer being regarded aristocratic as a result of her marriage. Thus, she was always flaunting her birth rank because the Musgrove's didn't give her the respect she thought was due her. Anne saw all this and decided it was better to marry someone she loved even if he wasn't part of the aristocracy rather than to remain in that circle and be treated badly. That's my take on it. It's regrettable that JA chose to give some of her difficult characters the same name my family gave me.
Previous message | Next message | Board index
---
Groupread is maintained by Myretta with WebBBS 3.21.
---
View thread | Previous message | Next message

Board index