The Pump Room Written by JulieW (4/4/2006 10:34 a.m.) in consequence of the missive, What is the Pump Romm, penned by Phil

The room you see now is still the same room, but it does have a different purpose, you are right , Phil.
It is a restaurant( and some of us " enjoyed" a meal three on our last ROP trip to England in 2002!)
The Pump Room as Catherine and we know it was built in 1793.Then it would have been almost empty to allow for perambulations to take place.
Its main purpose was to dispense the spring water to those taking the waters.( note the water is in fact hot , as it rises from a hot spring).
The water is dispensed ( then as now ) from the Kings Spring: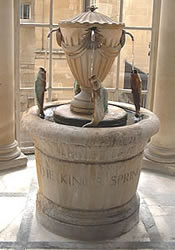 The subscription books were kept by an employee of the Bath Corporation .One of the first was Mrs Sarah Porter .She was notorious ,during Beau Nash's reign as Master of Ceremonies ,for her ability to ambush new arrivals to Bath , make them sign the book and pay her subscription(She was acting on commission , after all).
One of Nash's codes regulating the behaviour of visitors to Bath was that he expected them to make to him, only,:
Visits of Ceremony at Coming to Bath and another at going away is all that is expected or desired by Ladies of Quality and Fashion:- except Impertinents.
( from his Code of Behaviour still to be seen on display in the Pump Room.)
This was eventually overtaken by announcements in the local press and by writing ones name in the subscription book .
Why was it called a subscription book? Well, because on payment of 2 guineas( 2 pounds and 2 shillings) the head of the household so " subscribing" not only the right to enter his name into the book, but to three tickets to the twice weekly subscription balls.
See John Elgin The Imaginary Autocrat, page61.
As to your final question, I am not sure if any of the books have survived .One would have to ask that question of the Bath City Archive, I think. Sorry I cannot be of more help on this point