Turban vs. cap Written by Joan Ellen (11/27/2006 10:11 a.m.) in consequence of the missive, I think perhaps..., penned by Reeba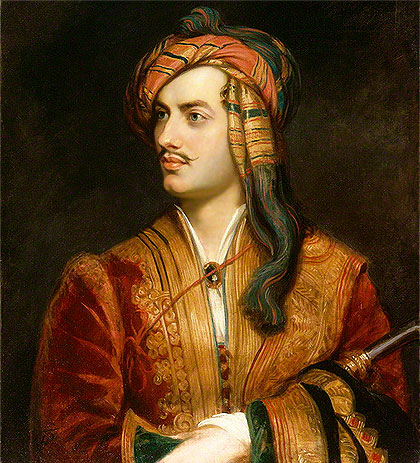 I was at first inclined to agree with Constance Hill, because I would have thought something as large as a turban could not have been referred to as a cap. But then I thought of this famous 1813 portrait of Byron, in Albanian dress, by Phillips.
In a letter to Miss Mercer Elphinstone, May 3 1814, Byron writes:
I send you the Arnaout garments.... There are greaves for the legs – 2 waistcoats are beneath – one over the Jacket – the cloak – a sash – a short shawl and cap... I have worn this very little and never in England except for half an hour at Phillips..."
That settles it, I thought. Then I came on this Albanian culture site, linked below, which describes Byron's headdress as "a red and gold and bluish-green striped shawl wound round his head like a turban..." So apparently the cap was something else.
So again I am somewhat inclined to believe a turban would not be likely to be described as a cap.
One does not know what to think.