Farnham Castle Written by JulieW (9/2/2005 7:49 a.m.)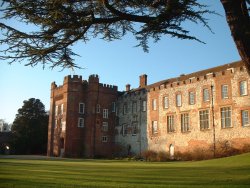 My father has applied to Mr. May for an alehouse for Robert, at his request, and to Mr. Deane, of Winchester, likewise. This was my mother's idea, who thought he would be proud to oblige a relation of Edward in return for Edward's accepting his money.
*snort*
He sent a very civil answer indeed, but has no house vacant at present. May expects to have an empty one soon at Farnham, so perhaps Nanny may have the honour of drawing ale for the Bishop.
Farnham Castle was the official residence of the Bishop of Winchester: now a confrence centre( see link belwo)
Another JA joke: can you really imagine the Bishop to be frequenting an ale house?